South Korea national football team qualified to each World Cup edition since 1986, when they returned to play in the tournament after twenty-eight years.
The best result in a World Championship was the 4th place in 2002 when they hosted the competition.
Many of you will remember the strange games played in this edition: the tournament was criticized worldwide for questionable refereeing decisions in favor of South Korea victories against Italy and then Spain.
That represented the first time teams from Europe, North and South America, Africa and Asia reached the quarter-finals of the World Cup.
Even if in Silla (one of Three Kingdoms of Korea) they had a ball game similar to football in very ancient times, Korea was introduced to Football by a British crew in 1882. The Korea Football Association (KFA) was then organized in 1928 and they started to develop football in Korea, however, it was dissolved by Japan in 1940 being Korea a Japanese colony.
Then the KFA was reinstated in South Korea in 1948 and they joined FIFA.
As we said before, South Korea played its first World Cup in 1954, when the competition was held in Switzerland. They lost the first 2 matches respectively 9-0 and 7-0 against Hungary and Turkey.
South Korea National Football team won the Asian Cup in the first two editions of 1956 and 1960.
In the 70's seemed to be the occasion to win their third cup.
The Taegeuk Warriors won the gold medal at the 1970 Asian Games and with confidence went to play the 1972 Asian Cup hosted by Thailand.
In the stage group (made of 3 teams) South Korea qualified first thanks to a goal difference of +2. Then in the semi-finals defeated Thailand on penalties and joined the final against Iran. In extra-time Iran scored the winning goal who gave the second title to the Iranians.
South Korea won again the Asian Games in 1978. A great generation of football players emerged: as Kim Ho-kon, Huh Jung,moo and Park Sung-hwa. The star of the team was Asia's player of the Century Cha Bum-kun.
For the occasion of Russia 2018, Retrofootball® launches the retro shirt South Korea 1970s retro shirt.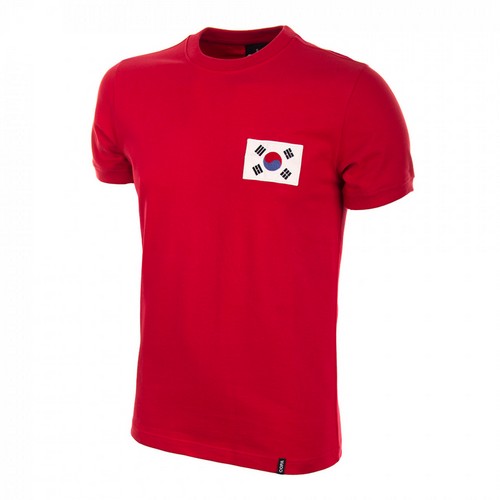 Buy the retro shirt of South Korea national football team in the 70s