On the 22nd of June Diego Armando Maradona decided to write history. In the Quarterfinal of the 1986 World Cup in Mexico Argentina faced England. Maradona delivered two historic moments; that are known as the Hand of God and the Goal of the Century.
In the 51st Minute, Maradona jumped into a way to high cross by Hodges und was able to guide with the "Hand of God" into the goal before goalkeeper Peter Shilton was able to catch it. Diego took some years to express that the goal was scored with the hand: "I did it with the head of Maradona and the hand of god."
Only 5 Minutes later he created a moment, which is in the memory of all football fans. In the middle of the pitch, after falling a few meters behind, Maradona received the ball. Then he starts his magnificent solo run. With his turns and magic on the ball he lets five English players behind and dribbles past Peter Shilton, to score the goal of the 20th century.
In our memory stays the commentary of Victor Hugo Morales for the Argentinian television. Subsequent an abstract: "he leaves the wing and he's going to pass it to Burruchaga... Still Maradona! Genius! Genius! Genius! Ta-ta-ta-ta-ta-ta-ta-ta! Goaaaaaaaal! Goaaaaaaal! I want to cry, oh holy God, long live football! Golaaaazo! Diegooool! Maradona! It is to cry for, excuse me! Maradona, in a memorable run, in the best play of all times! Little cosmic kite, which planet did you come from, to leave so many Englishmen behind, so that the country becomes a clenched fist crying for Argentina?"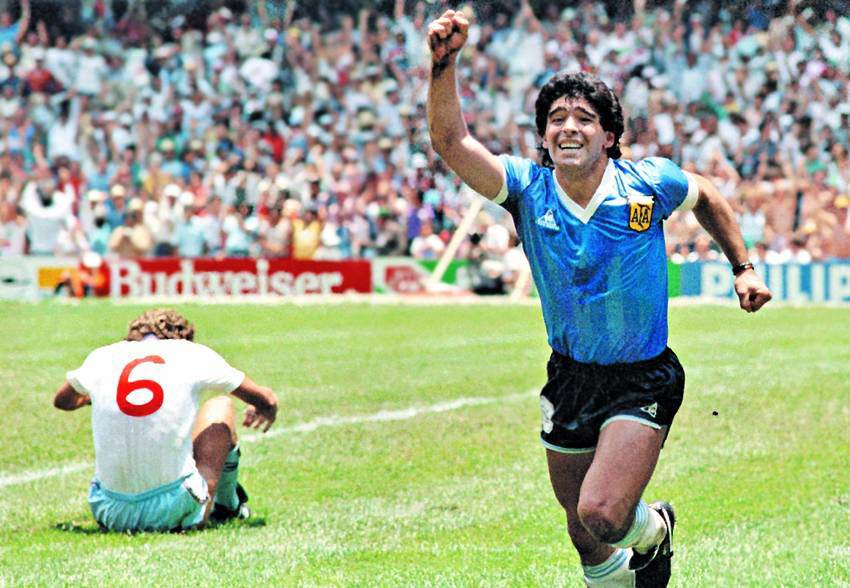 Maradona celebrating the Goal of the Century. Click on the foto to see the shirt.