The end of the year arrived and so the Christmas holidays, a time to enjoy with family and loved ones, however, it also bring challenges.
Although it is supposed to be a time of joy, lights, meals and gifts, there is always an element of pressure on this, and that is why we have decided to help you in this subject.
Giving the right gift can be hard, you to make your loved ones happy, and that is why we give you 5 original gift ideas, which will make this unique and unforgettable.
Holland 1974 away jersey
Undoubtedly a shirt that represents an era, dressed by Cruyff, was the clothing they used when they did not wear orange. White, without a doubt, represent elegance and purity, it reflects very well the way in which this team played, a shirt that can be worn on any occasion and that will not only be subject to admiration for its design but also pride for what it represents.
Holland WC 1974 Vintage V Collar Shirt | Away
Italy Away Shirt World Cup 1982
Again the white color is imposed at the time of giving a gift, and even more when this color is in a shirt like this one, nothing more and nothing less than the one with which Italy won the World Cup, a design that It has important details like the flag of Italy on the sleeves and on the edge of the blue collar. A high quality t-shirt that faithfully reproduces the original model.
Brazil World Cup 1970
You will hardly find a shirt as powerful as this, not only its striking yellow and green design, but it represents what many believe has been the best football team in history, Carlos Alberto's selection, Jairzinho, Tostao , Gerson, Rivelino and, offcourse, O Rey Pelè. As a fun fact, this shirt was designed by a 10-year-old, Aldyr Garcia Schlee, after a contest published by the newspaper Correio Da Manha.
Brazil 1970 World Cup Retro Shirt - O rei Pele
80s Spain Jersey
This is an exact replica of the original model, used by the Spanish team in the 80's, it is perfect for fashionistas of that decade, it represents an awakening of this national team since it was during this period that a new face was shown by the hand of Emilio Butragueño, it is undoubtedly a shirt that can be worn with style and always with head up.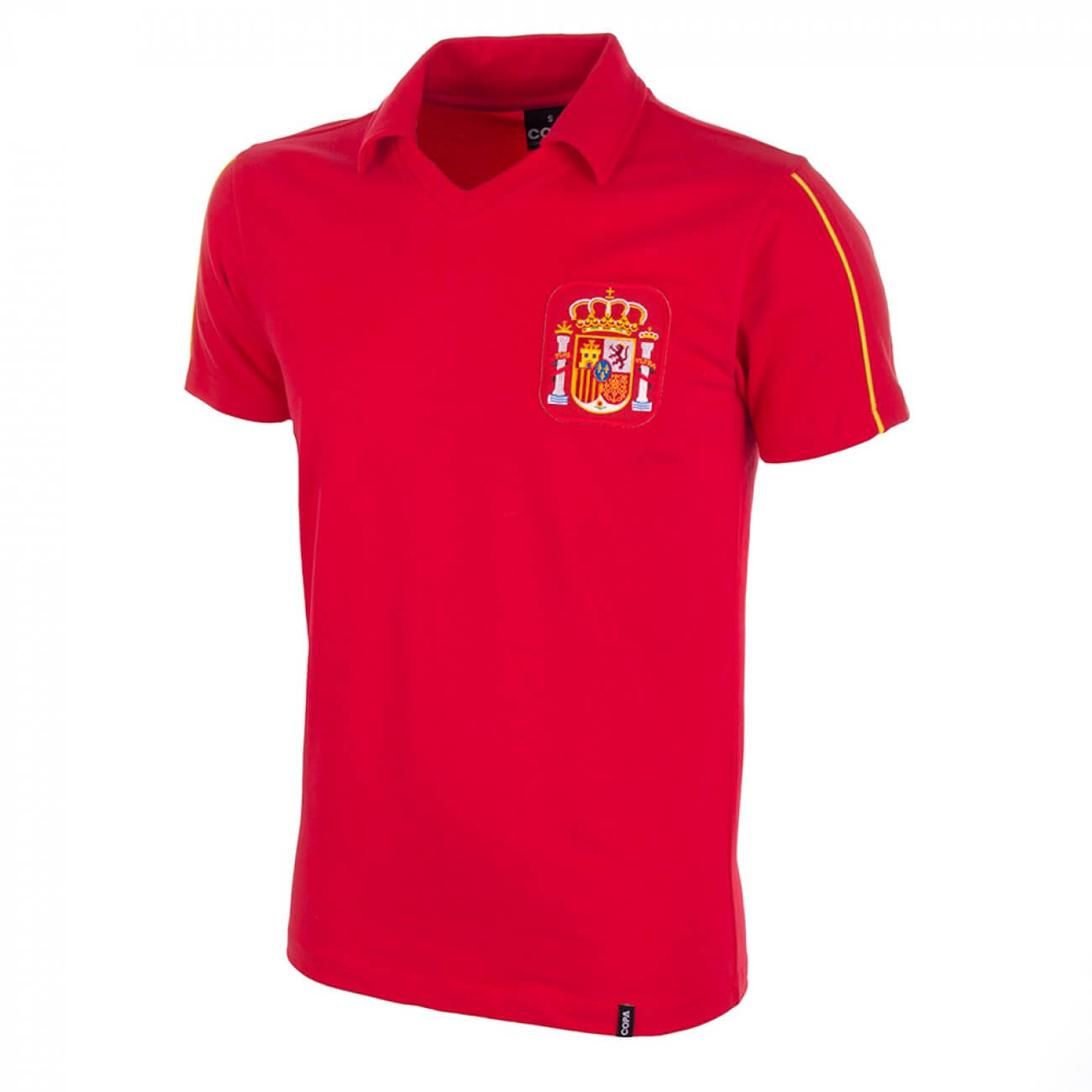 Mexico "El Tri"
Few shirts adapt better than this one to be worn by a woman, not only for its ocher green color that perfectly represents the color that the Mexican team has used in recent years, but with its details on the sleeves and V neck where you can see the flag of "El Tri", a team that has been the historical leader of football in Central and North America, and its colors represent one of the richest cultures of this continent.
If you are looking for more football gift ideas for women, check our section:
WOMEN FOOTBALL GIFTS
You'll definitely find the best gift for her!